NMMATC Fight Team: Building Champions Right Here In Nashville
At Nashville MMA Training Camp, our fight team training is an immersive and high-intensity experience that pushes every participant to their limits and beyond. Led by a team of world-class coaches, our training sessions are designed to provide comprehensive coverage of each discipline while emphasizing intensive drilling to hone skills to perfection.

Our coaches bring a wealth of experience from professional fighting careers and extensive coaching backgrounds. They're not just trainers; they're mentors who have walked the path and know what it takes to succeed at the highest levels of combat sports.

Each discipline is covered in depth, ensuring that our fighters are well-rounded and adaptable. Whether it's boxing, Muay Thai, Brazilian Jiu-Jitsu, wrestling, or any other aspect of combat sports, our training sessions leave no stone unturned. The coaches break down techniques, strategies, and tactics with precision, providing insights that only come from years of hands-on experience.

The intensity of our fight team training isn't just physical; it's mental as well. Our coaches instill a warrior's mindset, pushing you to push your limits and embrace challenges. The training partners on the team become a close-knit family, supporting each other through the grueling sessions and celebrating each other's successes.

As a member of our fight team, you'll experience firsthand the dedication it takes to become a true contender. The training is demanding, and at times it might feel overwhelming, but the progress you'll make is undeniable. Our coaches are invested in your growth, and they'll be by your side every step of the way. On top of team practices, team members train in every discipline, and are held to the highest standards, as examples within our community.

In order to become a member of the NMMATC Fight Team, you must qualify to participate. There are several avenues to do this:
Earn your spot:

Active members of the gym who excel on the mat and in our community will always be encouraged to train with and try out for our fight team. Our coaches are always on the lookout for talented members of our community.

Coach's approval:

If you are a seasoned veteran with a solid fight resume, please reachout to us, and we'll connect you with our coaching staff and management team. Experienced fighters will be added to the team on a case by case basis after meeting with our coaching staff, management team, AND partaking in a preliminary training period within the gym.

Tryouts:

We hold tryouts a couple times per year. By displaying your skills at tryouts, you can instantly earn a spot on our fight team
Asking to join the fight team outside of the above avenues is strongly discouraged by our coaching staff. Whether you are a seasoned veteran of the cage, or a new up and coming amateur fight. All members of the fight team must first speak with our coaches and management team, as well as participate in a 90 day trial period within the gym before officially joining the fight team.

Tryouts and Qualifications
To become a member of our Fight Team, we hold periodic tryouts to assess potential fighter skills, physical abilities and level of basic mma knowledge. The tryouts will consist of a series of evaluations, technique demonstrations, conditioning tests, and may include sparring (at the coaching staff's discretion), as well as interviews with our management team. The exact details and dates of team tryouts may vary depending on the current needs of the team and availability.
Qualifying for the Fight Team is based on several factors, including:
Skill Level:

We look for individuals who have a solid foundation as a combat sports athlete, as well as individuals who show the potential to be humble students and supportive team members.

Physical abilities:

Our coaches are always looking to add talented athletes to our team. At tryouts, as well as in classes, coaches look for individuals who are explosive, controlled, and quick to adapt in the ever changing environment that is combat sports.

Dedication

:

Being part of the Fight Team requires a high level of dedication, discipline, and commitment to training and competing. We seek individuals who are motivated, reliable, and willing to put in the hard work necessary to excel in the sport, not only for themselves, but to help their fellow teammates.

Physical Fitness:

A good level of physical fitness is essential for competing at a high level. We evaluate your overall physical conditioning, strength, and agility during the tryouts.

Attitude and Sportsmanship:

We value individuals who exhibit a positive attitude, respect for teammates and coaches, and good sportsmanship both inside and outside the gym. Members of our fight team are held to the highest standards, as they are representing the team and gym both on and off the mat.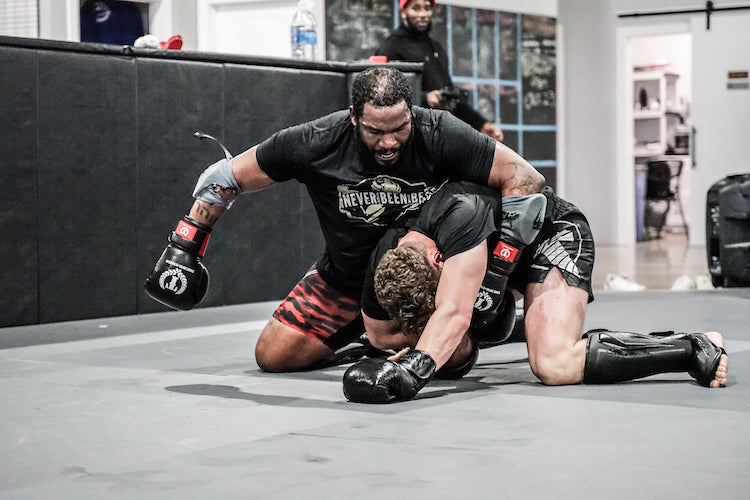 If you are interested in joining our Fight Team, we encourage you to stay updated on our website, social media platforms, or contact our training camp directly for information on upcoming tryouts and any specific requirements or qualifications needed.
NMMATC Fight Team Staff

Dustin Ortiz: HEAD COACH
Brian Tidwell: HEAD GRAPPLING COACH
Tim Semisch: HEAD STRENGTH & CONDITIONING COACH
Maia Warkentin: FIGHT TEAM MANAGER

Pro Fighters

Charlie Alexander
Dedrick Sanders
Pat Crumpton
Chris Ocon
Zack Hicks
Ronnie Lawerence
Amateur Fighters
Finn Martin
Andrew Stewart
Kue-Too
Phil Hedgewood
Rashad Lockheart
Payton Hayes
Nate Caine
Nolan Hernadez
Chad Pennington
Gage Holcomb
Toma Knight
Ernesto Pinuelas
Mark
Nate Brewer